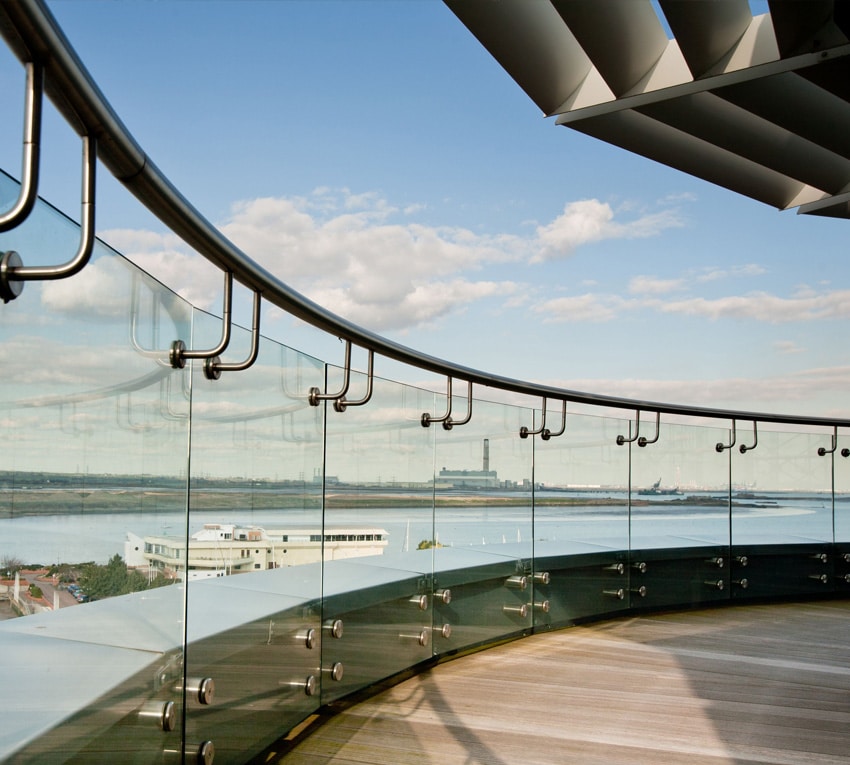 ESG –  the perfect solution for glass balconies
glass balconies – a guide from ESG
Glass balconies are growing in popularity. Many people opt for a glass balcony because you are able to have a safety barrier, while still being able to enjoy the views from your property. ESG glass is the perfect product for this due to its strength (so it enhances safety when in use and is also highly aesthetically pleasing).
Which glass is best for balconies?
Structural glass is stronger than standard glass and is commonly used in glass balconies. The difference is somewhat self-explanatory with structural glass helping to hold the structure of the balcony together, whereas normal glass may be used for decorative panels whilst another material is used for the structure (such as metal). ESG are a ISO9001 2015 2021 certified company.
Toughened and laminated glass is most commonly used for glass balconies. Toughened glass is thick and adds to the safety element. It's mainly used when heat resistance is needed, for example, vehicle and shower doors. The way this glass breaks into smaller, blunter pieces also adds to the safety element of the glass as it reduces the chances of cuts from fragments.
Laminated glass is more favourable because instead of breaking or shattering straight away, the plastic layer inside of the glass holds the entire structure together, which means sharp shards of glass do not scatter the area and therefore, make it less dangerous if the glass is broken.
Why glass balconies are popular
Glass balconies are ideal for allowing maximum sunlight into the room, whereas opaque balconies would disrupt both the views and natural light coming into the room. Another advantage of glass balconies is that, because it is made up of large panels, if one was to shatter or become damaged, it is not necessary to refit the whole balcony. Instead, the damaged panel can just be replaced, which is more cost effective.
Features of glass balconies to consider
There are different features of glass balconies you will need to consider before making your final decisions. At ESG, there are a range of laminated glass products in terms of size and thickness. These products range from 6.8mm laminate (3mm float glass laminated with a 0.8mm PVB interlayer) to 16.8mm laminate (2 panels of 8mm float glass with a PVB interlayer)
Another feature you will want to think about is frames or posts. Do you want the glass to be framed, semi framed or frameless? Structural systems that use toughened and laminated glass do not typically use posts.
Another thing to think about when considering a glass balcony is drainage. Laminated glass that uses PBV, should not be left to sit in water. This includes rain water or water that has been used on the glass to clean it. If the PBV stands in this water long enough and absorbs it, it can cause it to delaminate.
The water should easily flow out and should drain out from the bottom rail, you can check this after installation to make sure that nothing is holding water in the balcony. This means that when it does rain or when you have finished hosing down the glass to clean it, the water should not stay in the system and should drain out easily. However, there is a simple fix if you do find water being held in the bottom rail, drain holes can be drilled Into it.
Do glass balconies get hot?
One concern with glass balconies is how it would react to different weather since it is being used outside. Luckily, toughened glass is resistant to any moisture and it is not harmed in hot or cold weather.
Other materials, for example, wood is not as versatile. This type of material normally needs some sort of coating for it to be able to last in different temperatures and moisture levels. Glass is beneficial to use for balconies since it doesn't need any type of coating for it to last.
Another advantage of using glass for an indoor or outdoor balcony is that it does not need a lot of maintenance either and requires little effort to be kept clean. Whilst minimal effort is needed to maintain the glass, it may need to be cleaned as dust or light staining marks can occur, both being easy to get rid of.
What is a glass balustrade?
Glass balustrades provide a type of safety barrier. They can be framed and made from different types of glass. There are a number of reasons as to why these are a great option. They are completely see through so your view is not being obstructed. Furthermore, architects and interior designers favour them for their versatility since you can get them in different shapes and sizes.
Are glass balconies safe?
As well as being nice to look at, glass balustrades are also very safe. This is because it is thick glass that is being used and the glass is also tempered which means that it is harder to break. If the glass does end up breaking, which is rare, it tends to break into smaller pieces rather than big, sharp shards which can cause serious injury.
ESG
ESG manufacture the largest and most technologically advanced range of processed glass for residential and commercial clients throughout the UK.
need to know more?
Speak to us on 01376 520 061 or contact us and one of our friendly team will be able to assist you.